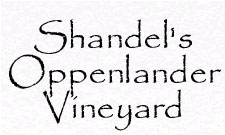 The unique climate of Comptche, California produces some of Mendocino County's finest Pinot Noir. Fifth generation family owners Bill and Norman Shandel produce sustained yield timber, world class blackberry jam and Pinot Noir from the Oppenlander Vineyard with Dijon clones planted in the natural opening homesteaded in the 1860s. Bill and family still live in the original log home. Known as the Oppenlander Ranch for nearly a century, the Shandel Ranch for over a decade and Surprise Valley Ranch, Inc. since 1963.

The inspiration for Shandel's Oppenlander Vineyards was a single aged grapevine, located in what the Shandel Oppenlander family calls Vineyard Knoll, which survived more than 100 years.

In 1985 Bill and Norman planted a test plot of grapes to see what would grow well. In 1997 Dijon Pinot Noir clones were planted and today 20 acres of Surprise Valley ranchlands are in grapes.

The year 2002 saw the first release of the wine that was an award winner, garnering the following awards:
2004 El Dorado County Fair - Double Gold
2004 San Francisco International Wine Competition - Bronze
2004 Critics Challenge International Wine Competition - Critics Gold
2004 Long Beach Grand Cru Wine Competition - Bronze
2004 Indy International Wine Competition - Gold
2004 Mendocino Wine Competition - Double Gold
2004 American Wine Society - Gold
This vintage was described as very dark for a Pinot, and aged in French oak, was highly extracted, concentrated and very ripe with cherry and dark fruit flavors. This vintage wine was produced at Salerno Family Winery in Healdsburg, California by John Pepe. This was a complex wine, well balanced, with a silky rich on the palate flavor, with deep rich flavors of black cherry and blackberry - 221 cases produced
Wine of this fine quality is uncommon from young vine and only occurs with perfect conditions of soil and a cool climate. Click here for other awards.
Phillips Hill Winery in Philo has used Oppenlander Vineyard grapes. These are a couple of other sites to ponder - The Pinot File and Indie Wine Makers
To order by phone call 707-937-5594. We take Visa and Mastercard and will ship to any location. If you would prefer to fax this information, please print this form and fax it to 707.937.4206. If you have any questions, please call 707.937-5594 or email svrinc@mcn.org.